I'm trully glad to publish today my first jQuery plugin. It has taken a big amount of hours of hard work, but as long as I see the results, I realize that it has all been worth it.
DEMO Page / jQuery Event Calendar Plugin examples | jQuery Event Calendar Plugin download
Introduction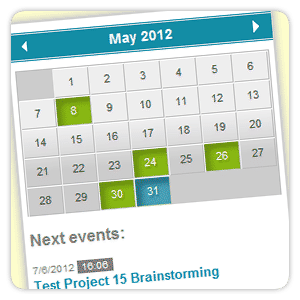 jQuery Event Calendar Plugin is another plugin to show events in a calendar directly in your web app.
The presentation of the events is made in a really comfortable way, as long as you can see all the following events at eyesight, or just a particular date event (displaying the whole month or just a day).
This widget shows the current day and all the other days that have events scheduled.
So… just another calendar plugin
Well, it is, but it also goes far beyond.
There are several jQuery plugins to visionate and manage calendars and events:
But… even when we had done a great research, none of them adjusted with the needs that we have in our projects, and if they did, they were prepaid plugins that we couldn't nor wanted to use in our OpenSource projects.
In particular, this plugin has been created for an OpenSource project that we are developing in  Paradigma Tecnológico for agile project management using Scrum, a project I'll show you in a very short period of time.
Also, it has been develop for responsive design, so you can work fine with it in desktop, tablet and even smartPhones
How does it work?
The first thing we have to know is how the plugin recieves the events. There are some methods to communicate between the plugin and the events, but in all cases the information has to be represented as a json with the following structure:

The plugin is highly customizable, so you are able to modify it through these parameters:
Send the json to the plugin in an inline JavaScript function or on an extern file.
Cache the received events or make new calls on every date change.
Change the calendar size to every width we need (it is 100% responsive, it is 100% fluid)
Supports all languages
Limit the number of events to show
Weeks start on Sundays or Mondays
Show the days in a calendar view, by weeks or all the month in a single line
Show the event description, or not
Open the event links in a new window, or not
Change the velocity of the animation when changing dates
Show the events inside a panel with scroll to avoid the widget from changing its size
…
We encourage you to visit the demo page of the plugin to see all its posibilities in action, and the explanation of each parameter that has been used.
And, if you like it, don't doubt on downloading the plugin
And now, what?
I'm thinking on improving the plugin, so any kind of bugs you find on it will be highly welcomed.
Following tasks:
Make the plugin 100% responsive: addapt to its content as it already does, but also to the browser size changes. Already done